Bright Mountain Media invites individual and institutional investors as well as advisors and analysts, to attend its real-time, interactive presentation at the Emerging Growth Conference
Boca Raton, FL, July 06, 2023 (GLOBE NEWSWIRE) — Bright Mountain Media, Inc. (OTCQB: BMTM) ("Bright Mountain" or the "Company"), a global holding company with current investments in digital publishing, advertising technology, consumer insights, and creative and media services, is pleased to announce that it has been invited to present at the Emerging Growth Conference on July 13, 2023.
This live, interactive online event will provide existing shareholders and the investment community the opportunity to interact with the Company's Chief Executive Officer, Matt Drinkwater, in real time.
Mr. Drinkwater will provide a presentation and may subsequently open the floor for questions. Please submit your questions in advance to Questions@EmergingGrowth.com or ask your questions during the event and Mr. Drinkwater will do his best to get through as many questions as possible.
Bright Mountain Media will be presenting at 12:35 PM Eastern time for 30 minutes.
Please register here to ensure you are able to attend the conference and receive any updates that are released.
Bright Mountain Webcast Registration Link
If attendees are not able to join the event live on the day of the conference, an archived webcast will also be made available on EmergingGrowth.com and on the Emerging Growth YouTube Channel, http://www.YouTube.com/EmergingGrowthConference . We will release a link to that after the event.
About the Emerging Growth Conference
The Emerging Growth conference is an effective way for public companies to present and communicate their new products, services and other major announcements to the investment community from the convenience of their office, in a time efficient manner.
The Conference focus and coverage includes companies in a wide range of growth sectors, with strong management teams, innovative products & services, focused strategy, execution, and the overall potential for long term growth. Its audience includes potentially tens of thousands of Individual and Institutional investors, as well as Investment advisors and analysts.
All sessions will be conducted through video webcasts and will take place in the Eastern time zone.
About Bright Mountain Media
Bright Mountain Media, Inc. (OTCQB: BMTM) unites a diverse portfolio of companies to deliver a full spectrum of advertising, marketing, technology, and media services under one roof—fused together by data-driven insights. Bright Mountain Media's brands include Big Village Insights, Big Village Agency, Wild Sky Media, and BrightStream. For more Information, please visit www.brightmountainmedia.com .
Forward-Looking Statements for Bright Mountain Media, Inc.
This press release contains certain forward-looking statements that are based upon current expectations and involve certain risks and uncertainties. Such forward-looking statements can be identified by the use of words such as "should," "may," "intends," "anticipates," "believes," "estimates," "projects," "forecasts," "expects," "plans," and "proposes," and similar words. These forward-looking statements are not guarantees of future performance and are subject to risks, uncertainties, and other factors, some of which are beyond our control and difficult to predict and could cause actual results to differ materially from those expressed or forecasted in the forward-looking statements, including, without limitation, statements made with respect to expectations of our ability to successfully integrate acquisitions, and the realization of any expected benefits from such acquisitions. You are urged to carefully review and consider any cautionary statements and other disclosures, including the statements made under the heading "Risk Factors" in Bright Mountain Media, Inc.'s Annual Report on Form 10-K for the year ended December 31, 2022 as filed with the Securities and Exchange Commission ("SEC") on March 28, 2022 and our other filings with the SEC. Bright Mountain Media, Inc. does not undertake any duty to update any forward-looking statements except as may be required by law.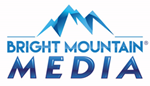 News Provided by GlobeNewswire via QuoteMedia
Bright Mountain Contact
Brian M. Prenoveau, CFA
MZ North America
561-489-5315
BMTM@mzgroup.us

News Provided by GlobeNewswire via QuoteMedia