Boca Raton, FL, July 10, 2023 (GLOBE NEWSWIRE) — Bright Mountain Media, Inc. (OTCQB: BMTM) ("Bright Mountain" or the "Company"), a global holding company with current investments in digital publishing, advertising technology, consumer insights, and creative and media services, today issued an update to shareholders from its Chief Executive Officer, Matt Drinkwater.
Dear Fellow Shareholders,
2023 has been a transformative year for Bright Mountain Media, even as the media landscape continues to evolve. Bright Mountain Media is focused on growth, and we find ourselves at the beginning of a tectonic change in media and privacy practices.
Now more than ever, companies are looking for new and additional means to target their messaging to their desired audiences as regulatory concerns accelerate the impact on existing industry standards. Washington has spoken, and tech companies will be limited in how they monetize your personal information for advertising purposes.
Two highly visible examples of this trend are the impending degradation of Google's Third party cookie and the data security measures embedded within Apple's iPhone. This has created a need for companies to find new methods to better understand their target audiences, and have the tools to reach those audiences.
It's in this ever-changing environment that, in a transformative deal, Bright Mountain acquired the assets of Big Village's Insights and Agency divisions in April 2023. Big Village is a licensed and accredited market research firm, where data is at the forefront of providing valuable consumer insight.
What Is Big Village and Why It Is Important
First and foremost, acquiring Big Village's assets creates a step change in the financial profile of our company. Insights and Agency bring Bright Mountain approximately $50 million of annualized revenue. This compares to the approximately $19.6 million of revenue Bright Mountain reported in 2022. Additionally, the combined entity had assets of over $72 million, as of March 31, 2023 pro forma financials. This increase also brings scale to the organization and should bring the cost advantages you'd expect. We are now the operators of a massive insights and data business.
Big Village Insights provides robust consumer data and market research assets to Bright Mountain's portfolio, making Bright Mountain a destination for companies looking to understand their customers' preferences, seeking creative and media solutions to reach those customers, and requiring brand measurement tools to track success. The Agency division adds to Bright Mountain a creative and media platform for our customers to formulate media strategy, produce associated media, and manage the execution of that strategy.
How Does Big Village Fit In Bright Mountain's Broader Strategy?
We believe the addition of Big Village evolves Bright Mountain to meet and lead the current media market, transforming the company from a simple media publishing organization to a complete media solutions provider that pairs publishing, creative media, data-driven research that creates in-depth customer insights, and technology-enhanced optimization and targeting. Big Village allows Bright Mountain to refer internal opportunities providing overlap across our varied customer bases. With this overlap, Bright Mountain can monetize existing customer relationships multiple times, creating a flywheel effect.
Final Thoughts
The regulatory environment surrounding personally identifiable information is changing in favor of individual privacy. Consumers are also placing more emphasis on privacy in their everyday decisions. With Apple introducing new privacy features to the iPhone and Google moving away from tracking users with Cookies, acquiring consumer data and insights becomes ever more critical. As the big players in consumer data move away from publicizing their data, Bright Mountain looks to fill the void as a licensed and accredited market research firm. The opportunity is enormous, with global digital advertising reaching $626.9 billion in 2023 and expected to grow 10% annually through 2026.
The media market remains a fragmented space. With our unique product set, we are positioned to capitalize on opportunities to grow, both organic and inorganic. With Big Village's addition, Bright Mountain Media now presents a unique value proposition that only becomes more important over time.
We are excited about the position we are in and where we believe the overall market for research, publishing and data-driven solutions are heading. We believe Bright Mountain is uniquely positioned to take advantage of the evolving regulatory environment and capitalize on the data group and capabilities we have in house. We look forward to sharing the progress with all of our stakeholders in the coming months and years.
Sincerely,
Matt Drinkwater, CEO
About Bright Mountain Media
Bright Mountain Media, Inc. (OTCQB: BMTM) unites a diverse portfolio of companies to deliver a full spectrum of advertising, marketing, technology, and media services under one roof—fused together by data-driven insights. Bright Mountain Media's brands include Big Village Insights, Big Village Agency, Wild Sky Media, and BrightStream. For more Information, please visit www.brightmountainmedia.com .
Forward-Looking Statements for Bright Mountain Media, Inc.
This press release contains certain forward-looking statements that are based upon current expectations and involve certain risks and uncertainties. Such forward-looking statements can be identified by the use of words such as "should," "may," "intends," "anticipates," "believes," "estimates," "projects," "forecasts," "expects," "plans," and "proposes," and similar words. These forward-looking statements are not guarantees of future performance and are subject to risks, uncertainties, and other factors, some of which are beyond our control and difficult to predict and could cause actual results to differ materially from those expressed or forecasted in the forward-looking statements, including, without limitation, statements made with respect to expectations of our ability to successfully integrate acquisitions, and the realization of any expected benefits from such acquisitions. You are urged to carefully review and consider any cautionary statements and other disclosures, including the statements made under the heading "Risk Factors" in Bright Mountain Media, Inc.'s Annual Report on Form 10-K for the year ended December 31, 2022 as filed with the Securities and Exchange Commission ("SEC") on March 28, 2022 and our other filings with the SEC. Bright Mountain Media, Inc. does not undertake any duty to update any forward-looking statements except as may be required by law.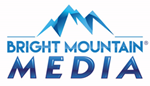 News Provided by GlobeNewswire via QuoteMedia
Bright Mountain Contact
Brian M. Prenoveau, CFA
MZ North America
561-489-5315
BMTM@mzgroup.us

News Provided by GlobeNewswire via QuoteMedia